The Swagga Bag
Posted on July 01 2018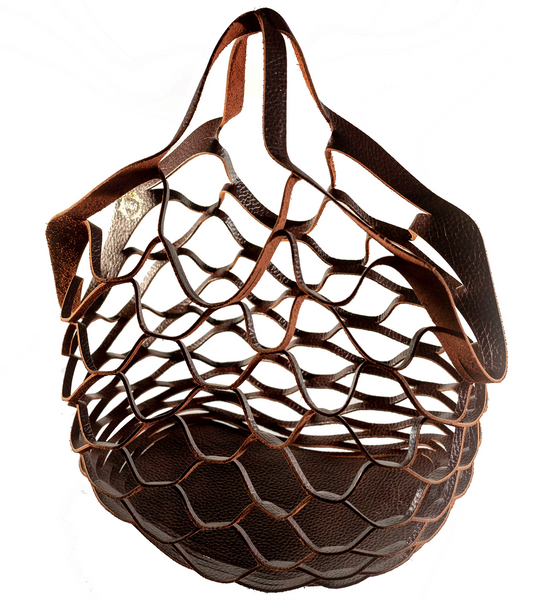 The Swagga Bag
Pros, Cons, and Creative Product Testing

Swagger & Hide is excited to announce the launch of our Swagga Bag, made from 100% New Zealand leather. The official Swagga Bag launch is on July 1, to coincide with the start of Plastic-Free July.*


Here's a look at some of the pros of the Swagga Bag. And because Swagger & Hide believes in being straight up, we've thought of some cons too.

Pros:
It carries your stuff. Not golf balls (see 'cons' below), but lots of other things. In fact, almost all the stuff you used single-use plastic bags for, back in the dark times when we still used those. Veges? Can carry!  Bread? Can carry!  Cereal? Can carry! Chocolate? Can carry! You get the idea.
It's clever as. The Swagga Bag collapses flat when not in use, so it takes up almost no room in your life when you don't need it. Pulling the Swagga Bag up from flat-as-a-placemat to instant grocery bag is also an impressive party trick.
It's safer to have around kids. Sadly, single-use plastic bags are a risk to little humans as well as the environment. The net shape of the Swagga Bag means it's not a suffocation risk.
It's not just for groceries. The Swagga Bag is the perfect beach bag because it acts like a giant sieve. Your togs and towel stay in, but the sand falls right out.
It's eco-friendlier. Single-use plastic bags are clogging our oceans, so it's great they're being phased out of our supermarkets. BUT the thicker plastic or polypropylene reusable bags offered as alternatives aren't necessarily that much better for the environment. Yes, they last for longer, but in the end, they have the same biodegradability issues. Leather, on the other hand, is an organic product that will eventually decompose.
It's stylish. Can your reusable poypropylene bag pull off timeless but contemporary with a side of retro chic? No? Didn't think so. The Swagga Bag, on the other hand, can go from farmers' market to cafe with ease.
Go fishing. In a pinch, you could use the Swagga Bag for a fishing net. Possibly. Maybe. If the fish is very slow and you are very quick with a net.
It's made right here. How many of the synthetic/plastic reusable bags are made here in Aotearoa? We're too busy making amazing 100% New Zealand leather products to look up the statistics, but we'd guess the answer is not many. Our Swagga Bags, on the other hand are made right here in Penrose, Auckland, by talented Kiwi leather-workers.

In the interests of transparency, here's a look at some of the Swagga Bag cons. In fact, we only came up with two.

Cons:


It won't carry all your stuff. Golf balls nestled in their golf ball box are fine, but loose golf balls will not stay in a Swagga Bag for long. And for all you urban hipsters hoping to use the Swagga Bag to collect your eggs from the chook house, forget it. Use a basket.
It's not a backup whitebait net. Yes, you could use it as a fishing net in a pinch, (see 'pros' above) but our whitebaiting test was a complete flop.
 

Product Testing:

We have some ambitious product testing plans for the Swagga Bag. Check our Instagram to see if anyone has been brave enough to pull off the Swagga Bag parachuting challenge. #swaggerandhide #SwaggaBag

*Plastic-Free July is a movement close to our hearts here at Swagger & Hide. It educates people on the environmental risks caused by single-use plastics and encourages the use of alternatives. When Plastic-Free July started in Western Australia in 2011, there were 40 participants. Now it's a worldwide movement with millions of participants.To learn more about Plastic-Free July, check out their website: http://www.plasticfreejuly.org